Perched on the North Coast of the Mediterranean Sea, the tiny state of Monaco stands as the natural gemstone of Europe and the priceless marble of the French Riviera, offering tremendous glamour, poshness, and luxury to its citizens, as well as visitors and holiday-makers. Every curve of serpent-like Monte Carlo from Mont Agel to Place du Casino screams luxury, and if you add the bay full of yachts and the overstock parking lots with sophisticated, aggressive-looking proofs of social status, the ultimate achievement of the automotive industry and speed, you'll instantly know Monaco is the genuine paradise on the earth not many can afford.
But what if we tell you that you've got the opportunity to secure yourself Monaco citizenship and enjoy the benefits of one of the world's strongest passports while enjoying the crystal-clear lagoons of the Mediterranean and the chic lifestyle of the principality?
Sounds fancy? Then head to the following chapters of this article, where we will unfold every vital detail you'll need to know about Monaco citizenship.
What Should You Know About Monaco Citizenship?
It's no surprise that a country of such a reputation that equally provides the perks of financial stability, tax haven, and safety, alongside a myriad of leisure-related activities, great food, and ultimate richness, has one of the strongest passports in the world. Although not a member of the European Union or the Schengen Zone, Monaco has a special agreement with the Union, allowing its citizens to utilize the same opportunities as the EU citizens. It means you can travel to Europe visa-free if you have a Monegasque citizenship.
Currently, Monaco has the 15th strongest passport in the world, allowing you to visit about 177 countries visa-free, including all the EU member states, the USA, Canada, and many more.
However, you should know that getting Monaco citizenship is tricky, no matter how much money you have. You might've heard of several European countries, like Cyprus, Malta, or Romania, offering their passport to any individuals in return for an investment of a minimum of one million euros. However, Monaco is very strict about its immigration laws, meaning that there is practically no way you can get your Monaco citizenship by investment instantly. Even if you're Jeff Bezos, you'll need to go through rather long bureaucratic procedures to get that marvelous principality passport. First, Monaco doesn't allow dual citizenship, meaning you must renounce your previous citizenship before applying for a Monegasque passport.
Besides, because Monaco is a neutral state and technically doesn't have an army, you're obliged to be free from compulsory military service in your previous country of citizenship. For example: If you are subject to mandatory military service in the USA, even if you renounce your American citizenship, you'll still not be eligible for Monegasque citizenship.
However, there are several ways you can get your hands on that priceless passport that can secure your and your family's financial stability, as well as get you accustomed to that posh Monegasque lifestyle you've seen in the movies or image videos.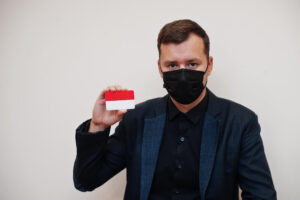 How Can You Get the Monegasque Passport?
While obtaining Monaco citizenship is a tricky task compared to other European passports, several ways can still help you get access. Monaco's citizenship law primarily uses the principle of Jus Sanguinis, meaning that if a child is born to at least one Monegasque parent, regardless of the birthplace can qualify for Monaco citizenship.
The ways of securing the Monegasque passport include:
Getting Monaco citizenship by descent – if at least one parent of a newborn child (regardless of their birthplace) is Monegasque, the kid automatically qualifies for citizenship.
Getting Monaco citizenship by birth – if a child is born in Monaco to non-Monegasque parents, the kid still qualifies as a Monaco citizen.
Getting Monaco citizenship by marriage – Foreign citizen qualifies for Monaco citizenship if they are married to a Monegasque individual and, in case of the death of their partner, don't remarry to another person.
Getting Monaco citizenship by naturalization – An individual residing in Monaco legally for at least ten years is entitled to apply for Monaco citizenship in case they renounce their previous citizenship. Naturalization automatically spills over on the instant family members under 18 (for ex: underaged children).
While the first three ways of getting citizenship are crystal-clear, the latter option of getting Monaco citizenship by naturalization raises one crucial question – How can you get yourself a Monaco residency, so you can legally stay in the country for the required minimum of ten years?
In case you want to see yourself living through the Monegasque fairy-tale legally, there are several criteria you must comply with:
Demonstrate proof of financial stability – You'll need at least €500,000 in your local bank account to qualify for the Monegasque Residency Application. Alternatively, if a Monegasque company employs you, you can ask them to provide you with a support letter.
Demonstrate proof of accommodation – You should own a property in Monaco or have a rental contract for at least 12 months in Monaco.
The residency application process takes around four to nine months. You can apply for Monegasque citizenship only after ten years of continuous residence in Monaco. You should also know that the Principality's governments solely develop Monegasque immigration programs and employment schemes to attract high-net-worth individuals to contribute to the revival of the local economy. Moving to Monaco with a plan to get a low-income job is practically impossible.
Monaco Citizenship Benefits – Why Should You Consider Getting the Monaco Citizenship?
You might've heard of many international celebrities, including world-famous singers, businesspeople, or Formula 1 drivers, choosing Monaco as their permanent residence during their careers. But have you ever asked yourself why?
Well, it has a reason, called the Monaco Residency benefits. Not only do they enjoy the perks of the Monegasque ultra-rich lifestyle and the ultimate revelation of world-class glamour, the best there can ever be, but they also take advantage of other crucial benefits.
Some of the essential Monaco residency/citizenship benefits include:
Favorable Tax System – Monaco has no income, wealth, local, property, or capital gain taxes, making this tiny coastal state the tax haven for multi-millionaires and billionaires.
Ideal Location – Hugging the Northern Coast of the Mediterranean Sea, this little country between the French and Italian Rivieras has ideal access to the rest of Europe. And because most of Monaco's population are tier-one business people, entrepreneurs, VIPs, and athletes, no wonder they can get from Monaco to any other European city in just one hour with a helicopter or a private jet.
Sense of Security – Who wouldn't love to live in a country with almost zero crime rates, let it be gaunt crimes like pickpocketing or hefty ones like carjacking or robbery?
Ideal Climate – Now, let's be honest. We'd all love to wake up on the enchanting dawn of the Mediterranean, with thousands of sun-rays flashing through the see-through glasses of posh Monegasque condos while enjoying the entire morning of golden-flax sandy beaches, calm lagoons, and embezzling sunbathing routine. And if you add the great variety of Michelin-star restaurants for dinner right before fulfilling a little urge for gambling and adrenaline at one of Monte Carlo's notorious casinos, well, you might even wonder why you haven't considered moving to Monaco before.
What Do We Mean by Tax Haven?
To elaborate a little bit more firmly about Monaco's tax policy here is some information you might need to know.
Monaco was a haven for the wealthy long before other offshore players.Monaco became the first sovereign country in Europe to abolish its income tax in 1869, almost a century ago.Monaco has been playing zero-tax for many years, and it is evident that this strategy has worked well.
Although Monaco does not have a direct tax, there are some exceptions. For example, French citizens can't claim exemption from income tax, even if they reside in Monaco all year. This is to avoid any finance-related frauds or laundering in France, which is notorious for its enormous taxes for wealthy people.
The few tax exemptions that apply (except for VAT) to a few people have not impacted the high-status Monaco residents who are clamoring to live there.Monaco's attractive zero-income tax is not the only reason. However, Monaco has a reputation for being a place where it is easy to obtain residency.