Introduction
Are you planning to spend your winter holidays in Europe 2023? Traveling to Europe is always a unique experience. Indeed, the continent so small yet so diverse, full of different cultures, traditions, history, and festivities, is truly an impeccable example of an excellent traveling destination. Especially in winter, when most European countries put on a thick, white coat of slushy snow and provide a great variety of fun activities, from skiing and snowboarding in the Alps to wandering around the tiny, illuminated Christmas Markets of blissful European villages. And if you add the holiday spirit that Europe undoubtedly, holds, you know that all you need for Christmas is a week or two-long trip to Europe. Because why not, right? In this ultimate winter travel guide for Europe, we'll get you the essential information to start planning your winter getaway in 2023.
So, prepare your mulled wine, pack the bag, and prepare for an adventurous and magnificent winter holiday in Europe in 2023.
Why Should You Visit Europe in Winter in 2023?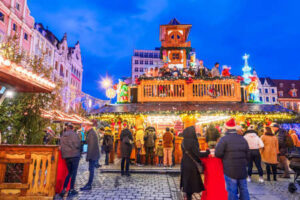 Before we head to the exploration of the best European winter destinations, let us give you some ideas and reasons why visiting Europe in winter is a good idea, especially if you're trying to make life-long memories and cherish the perks of your enchanting holidays for the rest of your life. Indeed, where else could you get so much emotion, purity, and bliss in winter if not in Europe?
First of all, Europe is a continent of wonders. Offering myriad unique cultures and embezzling artistic endeavors alongside its neat, cobble-stoned streets with plenty of medieval architecture, the continent serves as heaven on Earth for any traveler, experienced or not.
Enjoy the tranquility of the winter wonderland of European landscapes and viewpoints, inviting you over on more adventurous journeys than Alice herself. And you know what the best thing about all this is? Winter in Europe is a low season, meaning the streets and significant sightseeing are less crowded. The prices of accommodation, food, transportation, and souvenirs (which we all love) are much lower than in summer or fall.
And, of course, the majestic shades of Christmas lights, the tasty aroma of hot mulled wine, the upbringing spirit of holidays, and the irreversible charm of central squares dotted with various elves' houses, selling different types of sweet, traditional food and Christmas gifts. These are just a few reasons why we love visiting Europe in winter. And let's be honest, who can blame us, huh? In this guide we are going to cover what is the best place to spend winter in Europe months.
Winter Travel Guide for Europe – What You'll Need to Pack for a Perfect European Winter Getaway?
No matter how much we love traveling in winter, we've to agree that packing for the winter holidays is the trickiest activity. Unlike the summer holidays, when you can put all your short-sleeved t-shirts and colorful shorts/skirts neatly in one backpack without too much hustle, winter packing takes all your efforts, energy, and space in your bag to fit somehow all you want in that little budget airlines sized backpack.
But don't worry. We've got you covered. In this winter travel guide for Europe, we'll give you some practical tips on how to master the art of packing to an impeccable level of competence and enjoy your holidays without sacrificing your health or style.
First, you need to realize that in winter, nothing can get you warmer than thermal clothes, so always prioritize them and have several pairs of them depending on the length of your trip. Make sure you choose your warmest coat for the journey you'll put on outside and use it as a pillow on the plane. This way, you catch two rabbits with one shot and take a step towards the excellent holidays.
But before planning your trip to Europe, take into consideration new travel authorization system. Launching in November 2023, ETIAS will bring more flexibility and comfort to the traveler experience thanks to the highly developed pre-arrival verification system and reduced waiting time at the EU border. ETIAS is the EU's new travel authorization framework to enhance the Union's security by curbing external threats such as illegal migration, organized crime, or epidemiological outbreaks.
Essential European winter getaway gear include:
Waterproof Boots – Winter in most of Europe is unpredictable. That's why it's always a good idea to have waterproof boots with you that you can use on rainy or snowy days.
Warm Accessories – A scarf, gloves, warm hat, and earmuffs are necessary not to feel the strictness of winter reign.
Several Hoodies/Warm Sweaters – This one goes without saying. Although you can try some light clothes while moving around the city, we can guarantee that you'll catch thousands of surprised looks and, most importantly, cold or fever.
Don't forget to have additional accessories, like a power bank, charger, and reusable water bottle, alongside your light day bag, which you'll use daily.
How Much Money Will I Need for Two Weeks in Europe in Winter?
Europe is an excellent destination for budget-minded travelers looking to explore the continent during winter. With mild temperatures in many parts of Europe, budget travelers can take advantage of lower flight costs, accommodation prices, and discounts available through local tourism offices. Whether you're looking to visit London, Paris, Rome, or any other European city, budgeting for a two-week trip during the winter months can be surprisingly affordable. This winter travel guide for Europe will have everything you need to know.
Airfare Costs
When budgeting for your European trip, you should factor in airfare, accommodation, meals, transportation, and entertainment expenses. Airfare typically makes up a large portion of your budget and can vary greatly depending on where you are flying from and the time of year you are traveling. A round-trip ticket from the United States to Europe during the winter season can range anywhere from $600 to $1,200, depending on which airline you choose and which cities you visit.
Accommodation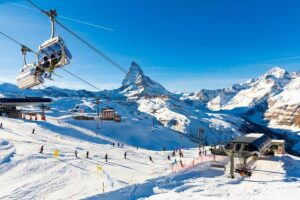 Accommodation expenses will also play a role in budgeting for your two-week European trip. There are numerous options available such as hotels, hostels, Airbnb rentals, and more – allowing budget-conscious travelers to find an option that best fits their budget. Hotels tend to be more expensive than other accommodations but offer luxurious amenities such as pools, fitness centers, and spa services. Hostels generally offer shared rooms with bunk beds at much lower rates than hotels but may not provide the same amenities or comforts. Airbnb is also becoming increasingly popular among budget travelers, with private rooms or entire homes available at very reasonable prices – making it easy to save money while enjoying a comfortable place to stay each night during your European trip. We estimate accommodation for two weeks in Europe is around $1500.
Meals
Meals will be another crucial part of budgeting when planning a two-week trip throughout Europe in the wintertime. Typically, most cities have plenty of reasonably priced restaurants offering delicious local cuisine at prices that won't break the bank, leaving plenty left-over for sightseeing activities during your travels. Grocery stores are also ideal if you need something quick and cheap while exploring different cities or towns during your European journey – providing budget-conscious tourists with yet another way to save money on food expenses while traveling across Europe in wintertime! Food and drinks will be around $500.
Transportation
Transportation is another necessary expense that should be factored into your travel budget when visiting Europe in wintertime. Many cities offer efficient public transportation systems allowing visitors to get around town relatively cheaply compared to taking taxi rides throughout their travels. Examples include London's Underground Tube system or Rome's Metro system, each offering convenient access points throughout both cities – perfect for those looking to save money while still getting around town quickly and easily!
Entertainment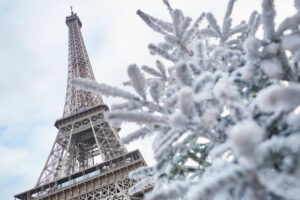 Lastly, entertainment expenses such as admission tickets for museums or art galleries should also be factored into budgeting when planning an extended European tour over two weeks in the wintertime. Many larger cities have various visitor passes available, offering access to multiple attractions at discounted rates saving budget-minded travelers even more money! Additionally, smaller towns often have free walking tours giving brand new perspectives on some of Europe's most popular destinations without breaking the bank! Entertainment costs can go up to $500 for two weeks.
Budgeting correctly is vital when planning an extended two-week European tour over the winter months. However, there are numerous ways budget-minded travelers can take advantage of lower costs associated with flights, accommodations, meals, transportation, and entertainment activities across various countries within this great continent!
5 Best Destinations to Spend Winter in Europe in 2023
Whether you're looking for romantic winter getaways Europe, cheap winter destinations Europe, or simply the best places to visit in Europe in December with family, this winter travel guide for Europe will provide you with top-notch information.
As mentioned above, you will have to acquire ETIAS before visiting Europe. Completing the ETIAS application will take you no more than 15 minutes, and once submitted, you'll get your application feedback within hours. The European Travel Information and Authorization System (ETIAS) is the EU's new European travel and security framework. By launching the system in November 2023, the European Union intends to strengthen its external borders and enhance its threat-curbing capabilities.
Here is the list of our all-time favorite European destinations that will bring joy and unlimited endeavors to your winter holidays, thanks to their majestically sophisticated architecture, a great variety of engaging activities, and a peculiar winter charm. So, get ready; we're going on a vacation.
Barcelona, Spain – Notorious for its Mediterranean atmosphere and stunning architecture.
Are you wondering about what are some of the best warm winter destinations in Europe? Barcelona is one of the best warm winter destinations in Europe for a winter getaway. The Mediterranean atmosphere creates an idyllic climate and a relaxing stay. Plus, its stunning architecture will add another layer of appreciation to your vacation: from the works of Antoni Gaudi, such as La Sagrada Familia, to streets lined with centuries-old buildings and artworks everywhere you look. There's no better way to spend a winter escape than to explore this fascinating city!
Prague, Czech Republic – Her Majesty rolling in the snow coat.
Visiting Prague during the winter is a memorable experience like no other. The city's historical sites, like Charles Bridge and Prague Castle, take on an even more magical air with their surroundings dusted in pristine snow. Tourists traveling to Europe in winter will find that they have all of the city's beauty, quirks, and secrets – no line-ups required! Strolling through its cobbled streets with a hot mug of mulled wine or walking across a bridge covered in snow at night is breathtaking because it can be pretty chilly outside! Whether you bask in its culture or admire its fairy-tale scenery, one thing is for sure: experiencing Prague in the winter is truly unforgettable.
Vienna, Austria – Enjoy the sound of Mozart and the dazzling atmosphere of the Christmas market.
Traveling to Europe in the winter can be challenging. If traveling to Europe during the winter months is on your bucket list, January is the best month to take a trip to Vienna. Traveling to Europe in January is a great idea. Explore the festive Christmas markets, fill up delicious seasonal treats and freshly made goods, and bring your ice skates for outdoor fun. There are plenty of events and activities you can enjoy no matter where you look in Vienna, and the holiday spirit will surely make your entire experience even more magical. Come this January to experience Vienna like never before!
Paris, France – City of lights, love, chicness… and much glamour.
Traveling to Europe in February can seem daunting as the weather is usually cold at this time of year. That is why you should check this winter travel guide for Europe. But there's no need to fear because Paris provides the perfect escape! There's no better place to thaw out than in Paris, where you can bask in the sunshine while taking in breathtaking views of iconic landmarks such as the Eiffel Tower. End your day strolling along some of the city's charming cobblestoned streets with a warm croissant or indulging in a delicious cup of hot chocolate – Paris could be just what you need for an unforgettable winter getaway.
Amsterdam, the Netherlands – Canals, Boats, Bridges, Snow, and Mysterious Red Light District.
A cozy winter getaway to Amsterdam isn't complete without exploring its iconic canals. Glide along on a boat ride with the calming waves lapping against the side as you take in stunning city views. Afterward, warm up in charming cafes and eateries that line the cobblestone streets. Here, you'll find irresistible treats like Stroopwafels, waffles filled with syrup, and freshly roasted Dutch coffee and pastries so good they'll make your taste buds tingle. Whether you're looking for new sights to explore or tasty treats to devour, Amsterdam offers a variety of fun experiences sure to delight.
Conclusion
No matter your budget or preference, Europe will indeed offer you the best winter holiday experience of 2023. From exploring the picturesque streets and canals of Amsterdam to skiing down the powdery Alps in Switzerland, there's something for everyone. Take advantage of this unique opportunity and start planning a memorable European getaway that will leave you with unforgettable memories! With so many incredible destinations within reach, it's no wonder that European winter holidays are some of the most sought-after experiences. So don't wait any longer – book a flight today and embark on an adventure that will create lasting bonds between friends and family!